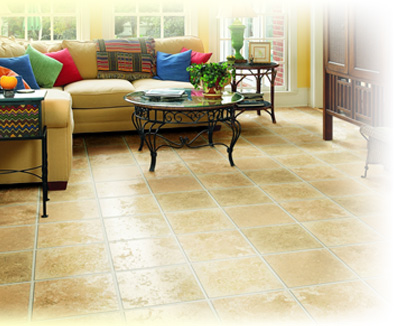 Dal-Tile

Shaw

Marazzi

American Orlean

Stone Express

Virginia

Florida Tile
Ceramic Floors.
Ceramic tile has been a popular flooring choice for Chicago homeowners for years. It is prized for its durability, ease of maintenance and the modern clean look it gives to rooms. Ceramic tile is available in numerous sizes, shapes, textures and colors, and can complement almost any décor.
Types of Ceramic Flooring Tile
There are two major types of ceramic tile. The first type, Quarry tile, is made by extruding natural clay or shale. The second type is made by compacting clay dust. This second category includes wall tile, mosaic tiles and floor tile. Any ceramic tile type may be glazed or unglazed, including porcelain tiles.
Glazed tiles are available in high-gloss, matte, and abrasive slip-resistant finishes. High-gloss tiles become slippery when wet, so they should not be used for flooring. Hand-painted glazed tiles are available in beautiful and intricate patterns and colors, but the glaze doesn't penetrate the tile. If it gets chipped, you will be able to see the internal color, which will make your tile look discolored.

Mosaic tile is made from clay with color pigments that go all the way through the tile. They are available in glazed or unglazed finishes, resist moisture and will not chip easily.

Quarry tile is made from a mixture of unglazed clays. These tiles come in earth tones like gray, red and brown. The color comes from the clay as well as the temperature and duration of firing. These tiles are usually porous and may stain if left unsealed. Quarry tiles come in squares, rectangles and hexagons.

Porcelain tile is fired at extreme temperatures which makes them stronger and harder than other ceramic tiles. They are extremely wear-resistant and absorb less water than other ceramic tiles. As a result they are an excellent choice for high-traffic areas and those regularly exposed to moisture.

Stone Tiles are crafted from natural stone. Granite, marble, limestone, slate, onyx and travertine are the most commonly used stone for flooring.
Choosing the Right Ceramic Flooring Tile
Ceramic flooring tile is made in sizes ranging from 1 to 24 inches square. Most are in the 12 inches or 18 inch range. Sheets of 1-inch mosaic tiles are also common. Mosaic tiles can be used to cover an entire floor or with larger tiles for visual interest. For small rooms use smaller ceramic flooring tiles, such as 12-inch squares or smaller. Larger tiles tend to overpower the décor in the room. Larger tiles are typically used in big rooms. The larger the tile, the less cluttered the rooms looks. Take a look at the tiles on our vendors' sites and then give us a call with any questions and to help finalize your choice.